I have to say that in spite of their team being so bad for so long, Raptors fans are passionate about their team. They had 5 different game threads that were all at least 40 pages long. The Hawks, in spite of their team's success had barely one. Of course many of their comments were complaining about their own team, but hey, at least they are there talking about them. As always, I've highlighted my favorites in bold. What are yours?
The losing streak begins. Back to your place in the NBA Raps
Durant is going to be laughing on the court And if the Thunder watched any of last night's game Ibaka and Perkins are going to have a field day as well And this is all without even mentioning Westbrook
OKC has size and length advantages against us, among multiple other things obviously.
Serge will murder us today.
Calling it now, we win this
This will be a loss The question is, how bad of a loss?
84-107 for OKC
So its a close game then.
Demar needs to have a big game. He folds like a ***** when he faces sefolosha.
Hate to be negative but this OKC team is just straight up scary. Still have memories from last game against them...
I wish KD partied. We would have a small chance. Maybe Westbrook and Ibaka went out last night.
We saw some rage out of KD this week,to the point where he actually got kicked out of the game against the Nets.Hopefully he doesn't take his anger out against us.I am frightened to see Westbrook tear down Jose Calderon's defence (tongue in cheek).I figure each drive will be like watching a world class athlete blowing buy a 3 year old child using crutches.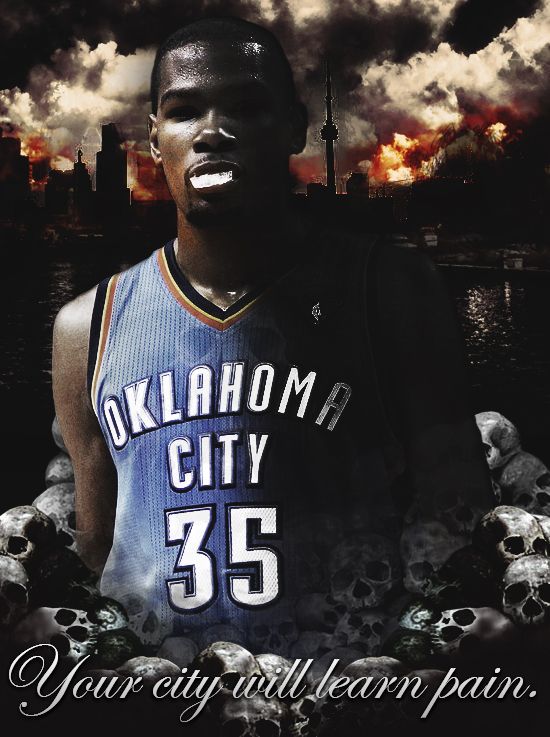 We will get eaten on the boards. You don't want to give Durant a second or third chance
If we had Westbrook on our team we'd hve a glamor of hope. One of the best prospects ever...
Westbrook making Jose look like a pylon.
I hate how the refs favour the more talented team. Like they need the help anyways.
Dam kd makes it look too easy
KD makes basketball look WAY too easy.
Westbrook has all the tools to make Jose completely ineffective.
OKC D is real impressive. Just shutting everything down.
How the F*** do you stop Durant?.
You don't
It must feel amazing being okc fan
Sometimes I wonder just how good OKC would be if they had a good coach, and not someone who just tells them to play 1 on 1 every offensive possession
Perkins is pushing Davis around today.
Must feel extremely good to know that you will be bailed out every time by the refs if you just go in the lane.
DeRozan looks like a lost puppy out there when he's guarding Durant.
Refs are clearly not on our side...
Westbrook doesn't get technical even if he throws the ball to the floor while swearing
Man, OKC's post presence on the defensive end is so good
This is sad, why would they give us OKC on a Sunday afternoon? I usually like Sunday games
This roster blows, time to trade Lowry and DeRozan for Rondo.
I f***ing hate Thabeet
I don't think I've ever hated a player as much as I hate Jose Calderon. I'll be so furious if Lowry is traded and Jose gets re-signed.
Just tuned into the game looking at the FT...is the fix in
Damn OKC big men got Ed SHOOK
About ****ing time. Westbrook and Durant ran some BS this game, finally getting a T
Durant always moaning about not getting one call when he's been handed many Jeez stfu
Durant just joking around and schooling everybody
Stop showing off, KD, we know you're the 2nd best player on the planet.
Has not been the prettiest game but it is important to remember, OKC beats EVERYBODY by a ton.
Well at least OKC is getting a very nice draft pick this year.