I thought Spurs fans were mere knowledgeable than to go into all out blame the refs mode when their team was being outplayed. But, I guess I was wrong. Most of the threads were not only complaining about the refs, but also blaming them for the way their team was playing. I'm always amazed when fans wish serious injury on the other team and I see it way too often on the forums. What's worse is that most of the wishes for injury were poor Matt Bonner. And How about Perk? Great dame from him. Loved seeing little Perk on Inside the NBA. He's dressing like a mini Russ and playing like a mini-Perk! :) I hope you enjoy today's comments. What's your favorite?
Spurs by 10+
Seriously, F*** OKC. Let's get this. The Spurs have now had a nice long layoff after game 2.
Spurs are 8-0 after 20+ point losses dating back to 2009.
Brooks put everything he had into game 3, Pop to put up a clinic tonight in the coaching battle between him and Brooks. Spurs got this, no worries.
Time to kick some ass! Spurs gotta show the Thunder what a real basketball team is like!
Uh oh David Stern with pre game instructions to the refs
There is Stern talking to the refs for tonight. Wonder who he told them to foul out.
I want Duncan to make Perkins pay. Hope Timmy's legs are up for the journey tonight. We need him.
The thunder crowd aint no joke
This isn't a series. Why is everyone treating it like one? Easy win for the Spurs.
Bonners tryna grow a beard to combat Hardens!
Media wants OKC to win so bad. Let's piss in their cheerios!
Things that don't make sense: Kendrick freaking Perkins has all of OKC's points so far.
OKC out to prove that Perkins has use besides against the Lakers
Perk the Jerk going to work with a smirk.
Refs loving the Thunder
Btw, I just wanted to throw out I HATE THUNDER
I never thought I'd say this but Perkins is killing us
Horrible officiating!
There's going to be some home cooking – just have to deal.
can't we cook the refs? You know, cannibal-style?
Man F*** these refs, Tony and Tim are getting mauled when they attack the basket but the thunder are getting all these touch
The f***ing faggot Bonner once again passes up a wide open three. God, please have this redhead motherf***ER tear his ACL on the next play.
Bonner is a f*** choker. I don't like Blair but I'd rather see him than this f@#@# choker
Bonner go kill yourself
Refs killing us
I'll tell you this, for all the crap everyone gives Griffin, he's far more classy than Perkins and Harden. Those two are thugs for hire, the fake tough acts is getting old.
Good lord, Durant has some chicken legs.
Ibaka is not a shooter….
Maybe somebody should tell him that.
WTF did OKC's bigs eat today?!?!?!?
Were making their bench look like effing all stars
So apparently now Ibaka and Collison can make every f***ing shot. Maybe we should try opxontesting their shot instead of giving them all day to shoot itl
The return of kareem abdul collison.
This team is flawed. We have no backup big men
Pop is getting out coached again. You cannont play bonner in this series.
And I can't believe Perkins and Collison are killing us
Good news: Spurs are playing a LOT better. That pass Splitter made to Manu would never happen in Game 3.
Bad news: I'm convinced the Thunder are good enough to win this series. That's a damn good team over there, ladies and gents.
Will someone please take Bonner on a walk down Thunder Alley? Preferably when the shootings were taking place.
The Spurs are just faking it to really psych them out.
The hicks in OKC are throwing the team off rhythm.
Exactly. The offence now looks nothing like what got the 20 game winning streak. it's like a different team.
To be fair, none of the games in the winning streak were in Oklahoma City.
I want someone to hold my hand and tell me we're OK
Well…I can tell you we're IN OK
C'mon Westbrook, you know you want the ball bad. You can do it. See you have a lead, you can go Kobe right now.
Bonner needs to fake an injury for the team. Maybe he can play the enforcer on himself. I would like to se him clothesline himself.
Ibaka and Perkins shooting well, that sucks.
OKC bigs making jumpers while our bigs are cowering.
F*** u Duncan
Duncan is garbage this series, completely has fallan off, spurs are doomed
First time I've ever seen Duncan scared.
Please elbow Harden again
Can't do much if Ibaka is shootin a 100%
Someone needs to nudge Ibaka to mess with his rhytmn.
An elbow to certain areas would be nice. A shame we don't have a batshit insane player.
Clothesline Fisher Elbow Harden again and hope he doesn't wake up ever
There's nothing the spurs can do. The THunder have grown up and stood up to the big brother.
So, what do we need to do to change the tide? Any ideas?
Leave OKC apparently lol
It would be worth the fine for Pop to call the refs out on this not calling goaltending crap, put some heat on them b/c this is getting out of hand
Quit bitching about the refs. We're playing about as soft and lazy as possible.
If Ibaka, Collison and Perkins are going to be hitting 20 footers all series, they deserve to win. Nothing you can do to stop...congrats Thunder. You are the better team, good luck against the Heat.
We have given a young talented team confidence………………..that's dangerous
The sad thing is somehow this young team took our veterans confidence
Exactly. they're playing like they believe they're the better team, and that's fatal for a team that is genuinely talented.
Not arguing conspiracy. The officiating has been horrible. Has hurt the Spurs.
It's crap, throws off our game and really gives the Thunders the advantage. I don't complain about the refs a lot, but they've been given it to us the last two games.
Referees suck up to the home crowd as a rule tbh
Not really. They suck up to whoever the Spurs are playing against.
The officiating has been ridiculously inconsistent. On one end, Duncan and Parker are getting molested without a call. On the other, Durant can get his pick of any whistle he likes.
This complaining about the whistles is crap. Mans game played by men. Spurs have only been called for 9 and OKC 7. If you want it, go get it. Refs won't give it to you.
Let us all just f***ing accept it. F***ing refs are against us. Ergo, it's us against the f***ing Thunder, the f***ing Thunder fans, the f***ing refs, and David F***ing Stern.
This is sucky. They don't have any energy or passion out there.
They're demoralized. I guess the EnergySolutions Arena and Staples Center folk weren't this electric
The Cheesecake Arena has given energy to the Thunder.
I thought we came out really awesome at the beginning. What happened?
Refs remembered Stern's memo.
The refs realized we were playing well and…..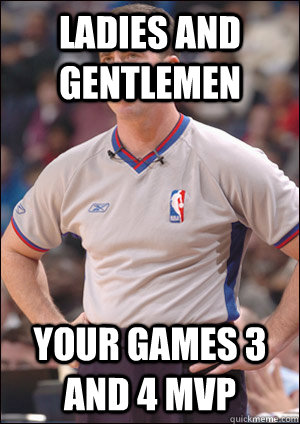 If that were a picture of Scott Brooks, I would agree.
Come on Jack, we need to punch that Durant guy
I wish he'd go Kermit Washington on Durant.
F*** Durant. Bust his ACLs
Ibaka is schooling Duncan.
The Thunder are making this look easy...complete and utter domination.
Punch Ibaka in the face please
Ibaka is annoying the F*** outta me. F***ing piece of s***
Spurs within 4 pts despite continued suspect reffing and Ibaka shooting at an unsustainable rate. I think they got this.
Spurs got this. OKC is doubting
Ed Malloy and James Capers are wearing their OKC shirts inside their zebra suits
Spurs getting no respect from refs!
I don't think a team has ever irritated me more than this thunder team
Damn I can't stand Harden. Flops after every damn shot he takes. He's gonna twist his ankle once landing down.
These refs keep shifting the momentum to OKC
2 of the next 3 games at SA. OKC can't win without extremely lopsided officiating. This bullshit officiating won't take place in SA because the crowd will be booing the refs all night and throwing shit at them.
Ibaka with 0 fouls………………..yeah riiiiiiiiiiiiiight
I hate complaining about the refs, but this is so one-sided it's sick.
Wait, what? A foul on okc? Isnt that not allowed?
Ibaka is really going to have a 100% shooting night? F***ING REALLY?
I hope he doesn't get a single point from here on in, for such blatant defiance of the laws of averages.
F*** YOU DURANT! YOU MUST DIE!
Really Durant… you didn't have to sell the flop. The ref had already whistled.
We're making Durant look as though he was the college player of the year or something.
Nice to see Kevin Durant getting escorted to the free-throw line. Anything for you, Commissioner Stern.
I want to know WHY we haven't DOUBLED DURANT?!?!
Because then Harden kills us?
Because ibaka is shooting out his mind
Sigh. Harden's getting to be hate-able by the game.
Again, refs giving the game to OKC.
Too bad they shot 60% for the f***ing game AND had ref support.
I want to know why the refs haven't been fired.
it's because of Emperor Sternpatine
Really too bad the refs robbed us of what could have been one of the best basketball games of the playoffs. A close, exciting, skilled game from both teams.
Are there more comments about the officiating on here than the actual game? Sheesh.
I remember when people said I was crazy when I said that Harden was dirty
OKC is clicking on all cylinders. Durant, Ibaka, Perkins, the crowd and the REFS!
Why that foul, if you are gonna foul Harden knock his block off but that was a dumb foul
Durant, Perkins, Ibaka and Collison are a combined 35 for 45. That's demoralizing.
Sefo on Parker was the coaching move of the 2012 playoffs.
Sweet, national media back on Thunder bandwagon.
Hats off to a fluke game. Spurs fought at least.
Those f***ing blue/white t-shirts are freaking gay as hell.
Confetti and celebration as if they have won the Championship already.
Ibaka killed us tonight. IBAKA. Well, and Durant in the 4th.
They won because Westbrook only took 10 shots
Someone needs to make sure that he hears that. He should try to take over game 5.
Did Scott Brooks just call Kendrick Perkins the meanest center in the league Perky?
Brooks isn't that great of a coach, but his players have made him look good the last 2 games.